ABOUT BRITTANY
Dedicated to making the world a better place.
In honor of my sister Brittany.
Born on February 27th, 1986 into a large, loving, southern family. She was the princess of the family as the middle sibling between two brothers. In her father's second marriage, she gained another brother and a sister. In her mother's second marriage she gained two more sisters. She was known as Sissy to all of her younger siblings and shared a twin-like bond with her older brother.
She grew up taking dance class at her grandmother's dance studio. It was a passion that stayed with her for her entire life. She was a popular girl in school. People loved her because she loved people. She began working at the dance studio teaching classes for children. She married at age 19 and then had 3 boys that she adored with all of her heart. Somehow she managed to still have love for the rest of the world. She was an avid church-goer and believer in Christ. She helped the homeless often. She would always lend a helping heart when she saw that one was needed.
She socially used alcohol and smoked weed occasionally in high school. It was more common than not for people in her high school to do so. She never stood out as someone who used them more than others. Quite the opposite actually. As years progressed and after giving birth to 3 boys, her body started to take toll. Her back was equivalent to a 60 year old woman's.  She found prescription pain killers to be delightful for her back issues and other pains. All of this never raised any red flags to her loved ones because the doctor was giving her the medicines for the most part, and she took great care of herself and her family.
Out of the blue, we started noticing changes. She was losing weight and making bad decisions that she would normally have refrained from making. Before her family could process the signs, she overdosed and was revived in the emergency room. It was a heroin overdose. She stated that she wanted help and that she wanted to get better, but she didn't know how and her family didn't know how to help either. No one was prepared for heroin. A few weeks after her first overdose, she overdosed again. This time she was pronounced DOA by the time she made it to Eastside Hospital in Gwinnett County, GA. She will always be remembered by many, because she helped so many. March 15th, 2014 was the last time her heart took a beat. The world lost a good heart that day.
This is the team that is dedicated to taking action in the fight against the drug crisis in our country.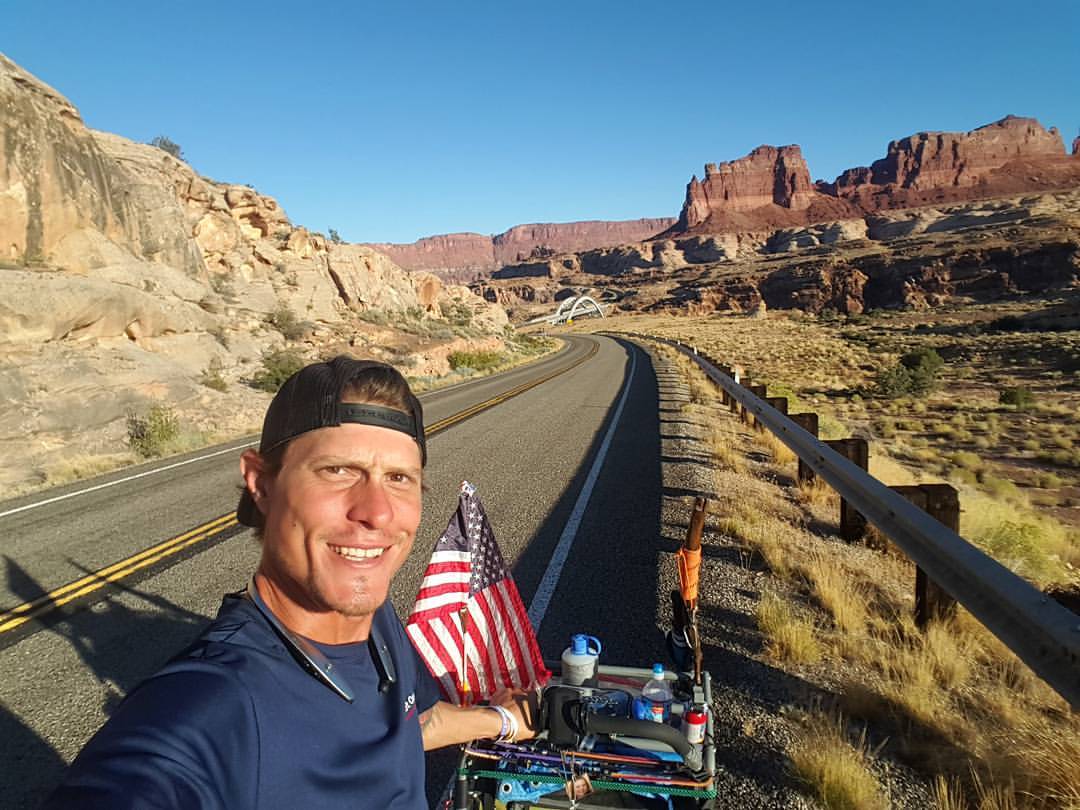 Brett Bramble
Brett grew up with a large loving family. He faced some challenges by having to go through multiple divorces and being molested from the ages of 12 to 16. All while being the oldest of 7 siblings. Drugs and rebellion dominated his teenage years. Crime soon followed. Spending over 2 years of his young adult life behind bars, he finally made a choice to not live that way. His family was what motivated him to be better. Once he noticed how fortunate he was to have them, he wanted to make them proud. He spent many years trying to get out of trouble. It was hard but remaining drug free helped him navigate through probation until he put it all behind him. He cleaned up his act even further when he found out he was to become a father. Life was good. Then out of nowhere he was brought back into the wrath of drugs through his younger sister Brittany. She had found herself struggling to quit using and was working hard to overcome her addiction. On March 15th 2014, Brittany died of a drug overdose. Around a year after her death, Brett had the idea to walk across America in her honor to try to help others from going through the same pains his family went through. Two years after her death, he began in the Atlantic Ocean in Delaware and walked 3,200 miles to the Pacific Ocean in San Francisco. For 8 months he traveled at 3 mph telling people about Brittany and how she and many others were dying from drugs. The efforts reached hundreds of thousands of people. It was only a few months after that walk ended before he decided to do it again. This time as a small step in a greater purpose to start a transitional retreat that will help people recover from troubled pasts. He has dedicated his life to make this happen.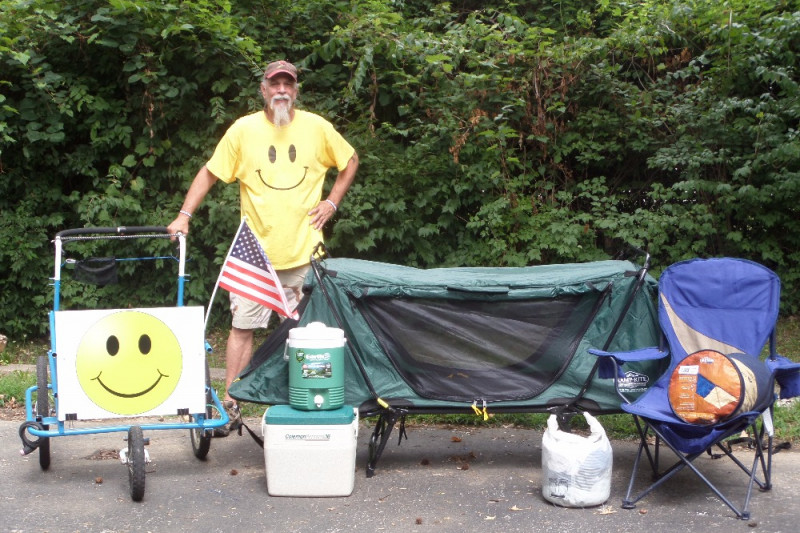 John Azerolo
John reached out to us and wanted to walk with us for the entire 2,100+ mile trek. He tried to walk across the country in 2014 and made it 378 miles before health issues had to take him off the trail. He has a huge hole in his heart by not completing it. From his past experience, he knew that joining a team would help with the loneliness aspect of a cross-country trek. He is very supportive of our cause and wants to contribute anyway he can. Having a background in stand-up comedy, he has offered to provide the "smiles along the miles." He will turn 60 years old on this quest.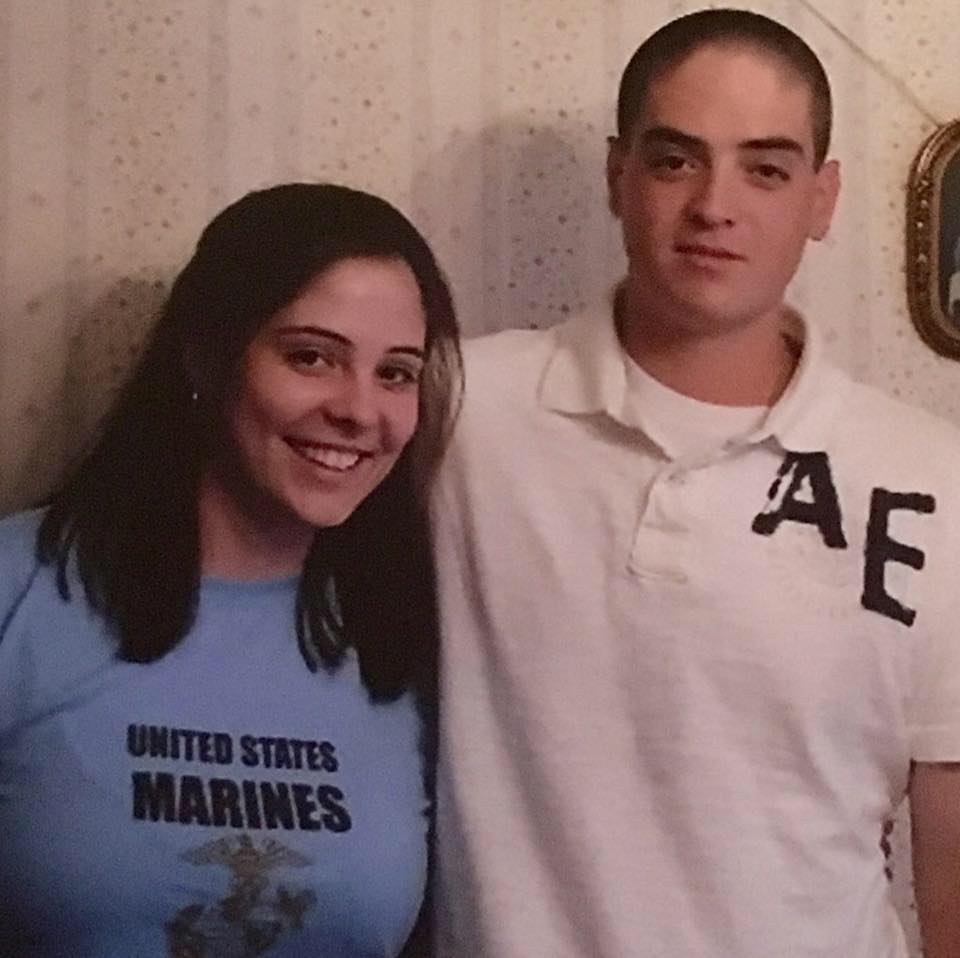 Domino
Domino was born in June of 2014 and was rescued from the Fulton County Animal Shelter in Atlanta, GA at 6 months old. She is a 40 pound lab mix and loves going for walks. In 2016, she walked from Delaware to Kansas and then took a break from the heat during the summer. She returned later on to walk across California and take a victory splash into the Pacific Ocean. She's basically the coolest dog ever.